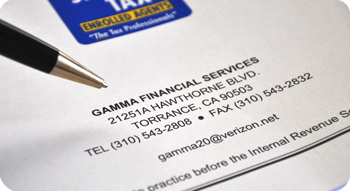 Gamma Financial Services, Inc. was founded in 1987 as a tax preparation, small business bookkeeping, and financial planning firm, serving the communities of southern California, in general, and Los Angeles, South Bay area in specific. We cater to the needs of individuals and small businesses; our clients come from all walks of life & vast array of business specializations.

Located in the heart of Torrance financial district, we are a one stop advisor for small businesses, with expertise in entity taxation (corporate, LLC, partnership), sales tax preparation, and payroll needs of our clients.

In the area of individual taxation, the pendulum of our clients sways towards more complex returns, with real estate holdings, stock transactions, retirement distributions, and the like; nevertheless, we welcome families with simply a residence and W2 incomes to report.